Classes canceled for second time in decade
Other recent weather-related closures were 2003, 1994
February 21, 2006
|
Stephen Yeargin, Executive Editor
---
Most students learned of the closure by listening to local radio stations or television news programs. UTM had also placed a notice on their Web site alerting visitors that the main campus would be closed Monday.
"[Al Hooten] called me at 5 a.m., and indicated that there was a sheet of ice on all the sidewalks, parking lots, and that the roads had some slick spots on them," Chancellor Nick Dunagan said.
The university's Inclement Weather alert policy states that "if inclement weather occurs, students should first check area radio and television stations for class cancellations or schedule changes. Additionally, appropriate schedule information will be posted on the university's home page under the news links. [UTM] offices will be considered open unless the announcement specifically says all offices will be closed."
"The crews have been working all day to clear the sidewalks and this should be helped with the temperature coming up some," Dunagan said.
The Pacer last reported a weather-related closure Jan. 14, 2003. Before that time, the university had only canceled or delayed classes four other times in its 105-year history (1994, 1985, 1979 and 1968). Louis Ragsdale, coordinator for Greek Life said Monday that IFC Recruitment would be rescheduled to begin Tuesday night. The week-long recruitment was to have begun Monday evening and lasted until Thursday.
The UTM Hospitality House Classic baseball tournament scheduled for this past weekend was canceled because of the threat of inclement weather. There are no plans to reschedule the games as of press time.
Public Safety officers and maintenance staff also reported for work Monday morning. Physical Plant employees were scraping the sidewalks to clear away the ice Monday afternoon. An official from Sodexho Dining Hall services said that meals and other services were still on schedule and were not affected by the closure.
The National Weather Service predicts that temperatures will rise above freezing throughout the week.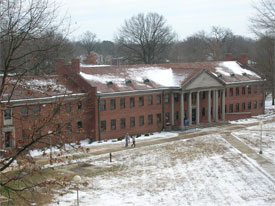 Stephen Yeargin