FCC approves phone number 'portability' guidelines
November 26, 2003
|
Stephen Yeargin, Executive Editor
---
Effective this week, switching cell phone service providers will be less of a hassle.
The Federal Communications Commission approved new guidelines that require assigned phone numbers to be "portable" (switched between carriers) within a local calling area.
The first phase only entails about 100 of the largest market areas, including Nashville, Knoxville and Memphis. All areas outside of this area must be able to "port" numbers by May 24, 2004. The Pacer was unable to contact the national offices for a timeline for the Martin area before press time.
This is in response to concerns that many consumers would continue to do business with a poor provider because the cost of changing stationary and contact lists would outweigh the cancellation of service contracts.
Landline phone numbers can also be easily transferred to a mobile phone and vice versa under the legislation, provided that both reside in the local calling area.
Industry analysts have predicted a mass crossover period over the next few weeks of people unsatisfied with their current provider.
FCC Chairman Michael Powell released a statement before the switch saying, "By firmly endorsing a customer's right to untether themselves from the wireline network – and take their telephone number with them – we act to eliminate impediments to competition between wireless and wireline services.
"Seamless wireline-to-wireless porting is another landmark on the path to full fledged facilities-based competition."
To ease the strain of the logistical problems that may occur during a provider switch, companies have negotiated portability deals. A press release from Verizon Wireless addressed one such deal.
Verizon and Cingular Wireless have signed an agreement detailing how they will port customers' phone numbers between them once the first phase of local number portability that took effect Monday.
The agreements address operational details, such as the troubleshooting procedures and communications protocols the carriers will follow during the porting process.
While the FCC does not require carriers to sign such agreements in order to port numbers, Verizon Wireless and Cingular agreed that formal porting agreements would allow them to cooperate as efficiently as possible during the process.
---
The FCC's guide to switching carriers and keeping the same number:
Compare Rates and Coverage – Comparison shop the rates and coverage areas offered by the carriers who serve your area. You should choose the carrier that provides the value, services, and technology that best fit your needs.
Review Your Current Contract – Your contract may contain early termination fees that you are obligated to pay. You will also be responsible for any outstanding balances. Make sure you know what fees apply. Carriers are not allowed to refuse to transfer a number because a fee or outstanding balance has not been paid.
Contact Your New Carrier – Do Not Cancel Existing Service! Your preferred new carrier will handle all the details, and they have every incentive to make this process as easy as possible. Be sure not to call and terminate your existing service - let the new carrier handle the transfer. You should also bring a copy of a recent phone bill. This will have all the account information to make the process both accurate and painless.
For changes among wireless carriers, you should be able to use your phone within a few hours. Moving your landline number to a wireless phone may take a few days.
If things don't go smoothly, contact your new carrier to try to resolve the problem. If that does not work, contact the FCC for more information or register a complaint at 1-888-CALL-FCC.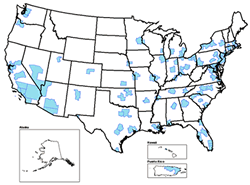 Courtesy of fcc.gov
Cellular service markets required to provide 'portability' as of Nov. 24, 2003, are marked in blue.