Greekfest 2005
Busy week ahead for greek community
February 7, 2005
|
Stephen Yeargin, Executive Editor
---
This year's Greekfest events, a week long celebration of greek life at UTM, will benefit local chapters of the American Red Cross.
All events are open to the public.
The week began yesterday with a "Jail & Bail" fundraiser, where fraternity and sororities chose participants to be "arrested" and held for "bail" money to benefit the ARC.
Today, the brothers of Sigma Alpha Epsilon will host a steak dinner beginning at 5 p.m. at their house on Lee St. Tickets are $6. The sisters of Chi Omega are hosting the "Mr. Greek" competition 7 p.m today in Watkins Auditorium (UC).
The Line Dance competetion begins at 7 p.m. Wednesday at the Skyhawk Fieldhouse. Tickets for the event are $2.
Thursday is the first of two "Greek Nights" at the basketball game. The Skyhawks take on the Austin Peay Governors in an OVC bout. In addition to "Greek Night," UT Federal Credit Union will be sponsoring various prize giveaways throughout the evening. Tipoff for the women's game is at 5:30 p.m. Admission is free to all UTM students with ID.
Following the game Thursday, Lip Sync begins at 10 p.m in Skyhawk Fieldhouse. Admission is $3.
The Stepshow competetion (often referred to as "Steppin'") begins 7 p.m. Friday in Skyhawk Fieldhouse. Admission is $10.
The Skyhawks take on the Tennessee Tech Golden Eagles. The game is also United Way night, with a MTD lawn tractor giveaway.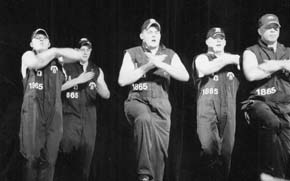 File
Brothers of Alpha Tau Omega perform in last year's Stepshow Competition.