Madrid blasts turn back UTM students
Terrorist attacks overseas force cancellation of spring break travel study group to Spain
March 26, 2004
|
Stephen Yeargin, Executive Editor
---
A group of UTM students bound for Spain were turned back shortly after national news outlets reported explosions in a Madrid train station on March 11. Spanish Medical Police said Tuesday that the bombings killed at least 190, and wouded more than 1,000.
The group, lead by Dr. John Overby of the Business department, was en route to the Memphis International Airport, where they would catch a connecting flight to leave out of Atlanta, Georgia.
Vice Chancellor of Academic Affairs Tom Rakes, acting as chancellor in Nick Dunagan's absense for a trip to South Africa, said that they were about thirty minutes outside of Memphis when his office instructed them to turn around and head back to Martin.
"Around 8:15 a.m., I informed Dr. Overby that 'right now, we're still a go.' As soon as we had more information, they were told to turn around and come home."
Rakes said that a student group from Knoxville was in Spain at the time of the blasts, and he had not heard of plans to bring them home.
UTM officials attempted to contact the U.S. Department of Homeland Security, but with little success to find out more about airport closures and the disruptions in the region.
"We tried to reach the office in Washington for a good eighteen minutes. It became clear that we were not going to be able to get in touch with them," Rakes said
He said that a call to the state's office of homeland security was made, but little information was available from them.
Rakes said that future trips to the region would likely wait until the area was more stable. "We expect to wait at least six months to year for things to calm down."
UTM officials have said that the students on the trip will not be responsible for the any costs of the trip.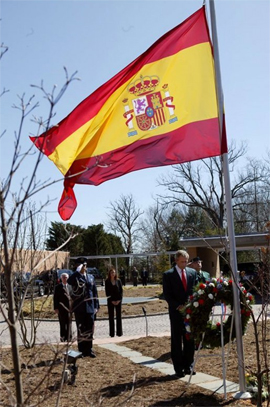 PAUL MORSE / The White House
President George W. Bush bows his head in silence during a wreath-laying ceremony at the Spanish ambassadors' residence in Washington, D.C.