Martin pays homage to the soybean
September 6, 2005
|
Stephen Yeargin, Executive Editor
---
The 12th Annual Tennessee Soybean festival has been billed as a great source of food and fun for the Martin community, including students.
Fortunately, festival patrons will not have to know anything about the bean itself, such as the soybean is the world's foremost provider of protein and oil. This bushy, green soybean plant is a legume related to clover, peas and alfalfa.
Soybeans find their way into numerous consumer products, including cereals, doughnuts, cheeses, meat replacement (such as tofu) and several hundred others.
The event, supported by area businesses, civic organizations and UTM, attracted 30,000 people last year. The Martin area benefits from more than $100,000 in sales tax revenue.
Headlining this year's event will be a performance by country music singer/songwriter Craig Morgan, whose recent hit "That's What I Love About Sundays" topped the singles chart.
"The soybean festival is a time for the community to come together and have a few days of fun and relax with friends," said Martin Mayor Randy Brundige.
"Planning for the festival begins in February and goes through August. This takes time and effort of the many volunteers. The sponsors are a huge part of the festival. Without them we could not put on the great event we have planned," Brundige said.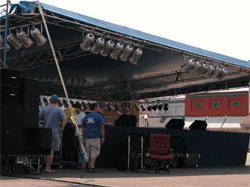 Jay Baker
Setup began Monday afternoon for the 12th Annual Tennessee Soybean Festival in downtown Martin.