New elevator to be added to Humanities building
March 11, 2004
|
Stephen Yeargin, Executive Editor
---
The Andy Holt Humanities Building will have another passenger elevator by August 2004, said Director of UTM Physical Plant Timothy Nipp on Wednesday.
The construction project on the east side of the building began earlier this month, with a supply and site office trailer being placed in front of the building at the end of February.
The exterior of the elevator would be constructed of glass panels to allow passengers to look out over the quadrangle, a first for UTM.
Approved under the 2002-03 budget, the project has an estimated price tag of about $450 thousand including the replacement of ceiling tiles in the building's hallways.
"Humanities is such a utilized building. Any problems with the main elevator and students with disabilities would have to be carried down the stairs," Nipp said.
"I hope it helps the people who need it, but I think the expense is the result of some students' abuse of the current elevator," said Brian Davis, a Senior Management Information Systems major from Clarksville.
"I think it is long overdue. Also this needs to be the elevator for those handicapped. That way the old one can be used for regular use," said Matt Muehlberger, a Senior Public Relations major from Memphis.
Some students find the prospect of a glass elevator appealing.
"I'm not precisely sure why Humanities is getting another elevator, but a glass-paneled one sounds nice," said Rory Higgins, a Sophomore Philosophy major from Martin, Tenn.
Dr. Heidi Huse of the English department, whose office is directly outside the construction zone, is optimistic about the new elevator, but has noted the loss of the natural light that once filled the halls.
"It has made it rather dreary in here," Huse said.
The project originally went to the drawing board in July of 2002 to alleviate the congestion on the main elevator.
Bids on the project were opened December 3 of last year, with Searcy Construction bidding the lowest based on the project guidelines.
Humanities would be the first academic building on campus to have more than one elevator.
Signs near the construction site urge students and faculty to use alternate exits because of the hazardous conditions that may exist in the construction zone.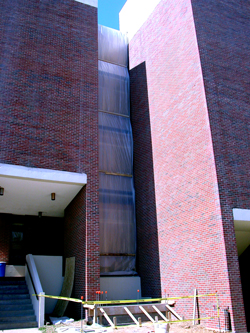 Stephen Yeargin
Plastic covers the eastward facing windows of Humanities in preparation for a new elevator.