New Pacer Web site site out there for you to enjoy
January 31, 2003
|
Stephen Yeargin, Technical Editor
---
You may notice that one of your favorite web sites doesn't look like it did this time a week ago.
After only a semester in operation, the Pacer Online Edition received a much-needed face-lift.
Although the changes are very apparent, returning visitors will still find their features in the same place they left them a week ago.
The overall design has bright colors and more consistency in the design than the previous edition.
Every story now has an article toolbar box with the usual print, e-mail and discuss options, but with another section that lists the top five headlines from the section the story appears in.
This is useful for readers who are in a hurry and just want the top stories.
Aside from the layout changes, visitors to the online edition will notice a substantial change in the way the discussion boards work.
Now, each section has a "forum", and users can login to protect their identity from fraudulent posts.
The board, created by the phpBB group (http://www.phpbb.com) is one of the most widely used open-source systems for online forums in use today. For those familiar with it from other sites, you will feel right at home on our discussion board.
The new system also includes the ability to add mini-polls to topics, a feature not found in the previous edition. However, only registered members may vote in the polls.
How do you register? If you look at the top right of the page on the discussion board, there is a link to register.
After agreeing to the privacy terms, you must enter a username, password and valid email address.
For a limited time, the board will allow anonymous users to continue to post to the board.
We understand that some may be hesitant at first to register their information with us, but understand that we do not use any private information for the purpose of selling it to a third party.
This feature was added following numerous complaints from users being impersonated by unidentified visitors.
A few other features of the discussion board that users may find convenient are a board-specific search engine, avatars, messenger links and other customizable settings.
The Pacer would like to hear what you think of the new design. E-mail us at pacer@utm.edu, or leave a comment on the new discussion board at http://pacer.utm.edu/discuss/.
We are proud of our advancement in the area of online content, and hope that we can use your suggestions to continue to make our site one of the best of any college newspaper in the region.
Stephen Yeargin is a sophomore Communications major from Nashville. He is the Technical Editor for the Pacer and is in charge of the Pacer Online Edition.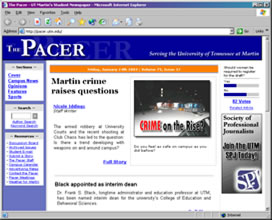 pacer.utm.edu
The Pacer website has yet again been updated with new features due to popular demand.