Ogg is next SGA President
April 11, 2003
|
Stephen Yeargin, Technical Editor
---
Jennifer Ogg has been elected to serve as the next President of the SGA after a rain soaked run-off.
Ogg defeated Nikki Draper by 62 votes during the run-off. Draper led the contest during the general election by 33 over Ogg, eliminating Jason Balestrini as the third candidate on Tuesday.
Beau Pemberton soundly defeated Kevin Anderson by 103 votes to become the Vice President-elect.
In a closer race, Pamela Bartholomew defeated Brian Davis in the Secretary General race by 37 votes.
In senate races, Josh Davis, Robert Hoffman and Landon Loveall will fill seats in the College of Agriculture and Applied Sciences.
Landon Loveall is an incumbent senator from this year's administration.
The College Business and Public Affairs welcomes Dusty Dean, Clarissa Porterfield, Matt Maxey, Joey Pierce and Laura Harber.
Dusty Dean is also an incumbent senator. Matt Maxey served as senator prior to being asked to serve in Nashville in the Governor's office.
Candace Tate, Ann-Marie Lovelace, Jeff Hall and Elizabeth Reynolds will serve in the College of Education and Behavioral Sciences.
Reynolds, Tate and Lovelace are all incumbent senators from this year.
Two of the three vacant seats in the College of Engineering and Natural Sciences will be filled by Marqueta Abraham and Brien Luck. One will remain vacant until the new senate convenes. Despite the controversy, Beth Anderton, Jacob Crouch and Kevin Teets will serve in the College of Humanities and Fine Arts.
Inauguration has been slated for 12:15 p.m. on Tuesday, April 15 in the UC Auditorium.
The SGA will hold an awards banquet on Wednesday, April 23 in the UC Ballroom. The banquet is for current senate members and invited guests.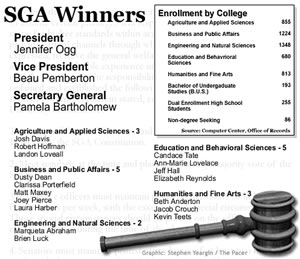 Graphic: Stephen Yeargin