SGA approves 'Pick-A-Prof' program
Online instructor evaluation system could debut as early as fall 2004
November 21, 2003
|
Stephen Yeargin, Executive Editor
---
UTM will join over 50 other campuses across the nation in an online professor rating system if the Student Government Association has its way.
The resolution to put organizational and monetary support behind the "Pick-A-Prof" project passed unanimously last Wednesday evening at the senate meeting.
Academic Affairs chair Dusty Dean said that the program's benefits will be widespread, and his committee is prepared to act on it as soon as possible.
Students would visit the Pick-A-Prof web site</A>, create a profile and upload their current class schedules. The information would be synchronized with course data obtained from the university.
The project has an estimated initial price tag of $2,900. The cost is based on UTM's enrollment, which was estimated at 5,800 by Pick-A-Prof.
One of the chief concerns now facing the program is its reception by the faculty senate. Many suspect that instructors will be hesitant to offer support because of the possibility that negative ratings could be maliciously posted.
"This [program] provides for fair registrations," Dean said. "Not just anyone get on there and bash a professor."
At the University of Wyoming, the faculty senate tried to block the implementation of the Pick-A-Prof system in March of 2001, saying that the project would "have serious negative implications for both the short term and long term of education." The resolution failed, but did indicate that there were those uncomfortable with the prospect.
The Pacer wants to know what you think about Pick-A-Prof. Share your opinion on our Online discussion boards.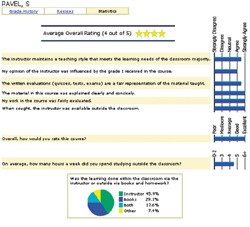 SGA Academic Affairs Committee
No more asking around about a professor's class if the SGA succeeds in implementing the 'Pick-A-Prof' Web system.