Spending Spring Break in Tennessee
March 11, 2004
|
Stephen Yeargin, Executive Editor
---
While many UTM students will be packing bags and heading to destinations such as Panama City Beach, Baton Rouge, or North Carolina's Outer Banks for Spring Break, some destinations are just a short drive away.
West Tennessee
Memphis is the place to be for a taste of the Delta Blues. While there, visit such attractions as Mud Island, take in a Grizzlies game at the Pyramid, or take a leisurely stroll through the Memphis Zoo. Beale Street at day or night is always a treat.
The city is also gearing up for July's 50th Anniversary of Rock and Roll, so no trip to Memphis would be complete without a trip to legendary Graceland or Sun Records studio. For more information, visit the City's tourist Web site at memphistravel.com.
Middle Tennessee
Known for more than just country music, Nashville is a prime destination for Spring Break in the Volunteer State.
Take a walk through the ever-growing Nashville Zoo at Grassmere, or visit The Frist Center art gallery downtown. Good times in the evening hours at one of the several night clubs on Second Avenue. The Predators, Nashville's NHL team, are not in town during the week, but try to catch the Saturday game against Calgary.
While in Middle Tennessee, head down to Lynchburg and the Jack Daniels distillery. It's a dry county, but visitors can buy this world-famous whiskey at the gift shop.
East Tennessee
For those seeking a change in altitude, head east to Gatlinburg and the Great Smokey Mountains and visit such locations as Fall Creek Falls and Clingman's Dome.
Other attractions include a trip to true Volunteer Country, Knoxville, Tenn. While there, visit the 1982 site of the World's Fair.
Visit Chatanooga's Tennessee Aquarium, where the animated antics of characters like "Nemo" and "Dory" in the Walt Disney presentation of Pixar film's animated fish tale Finding Nemo are "reel" close to the fish and facts found at the Aquarium's massive IMAX movie screen.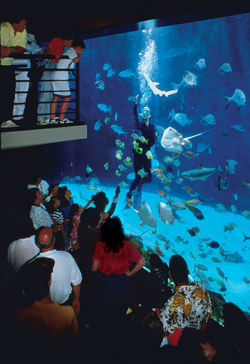 Tennessee Aquarium
Chatanooga's Tennessee Aquarium is one of many destinations in the state for Spring Break.