Storms carve path of destruction across W. Tennessee
Two former UTM students killed when twister touches down in Dyer
April 4, 2006
|
Stephen Yeargin, Executive Editor
---
Two former UTM students were among at least 23 people killed in a series of deadly tornadic thunderstorms that swept across West Tennessee Sunday night.
Former UTM students Jeremy Price and his wife, the former Jodi Fleming, both 27, died in the Dyer County storms. Services will be at the Somerville First Baptist Church. Visitation will be from 6 to 9 p.m. on April 5. The funeral will be held 2 p.m., Thursday April 6 at the same church.
Tennessee Gov. Phil Bredesen has asked the White House for disaster relief aid for Dyer and Gibson counties, where at least 23 people lost their lives and more than 58 were injured. Extensive damage occurred from Newbern to Bradford.
Sirens in Martin activated about 8:40 p.m. Sunday. Events in the UC were canceled or postponed and people on the upper floors were evacuated to the game room and main hallway.
Barry Matthews, president and CEO of the United Way of West Tennessee, said that his organization would be working with the American Red Cross on relief efforts.
"[Our] role is to be a good, supportive partner to our emergency and basic needs providers — helping them share information with the public and identifying resources needed for recovery," Matthews said.
"In Weakley County, we understand that a Red Cross team of volunteers from Obion County is identifying affected families and responding to local needs."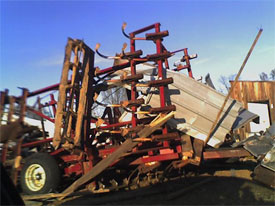 Erin Young