UTM makes the switch to new telephone prefix
New 881 prefix, dubbed 'UT1' now in effect
August 31, 2004
|
Stephen Yeargin, Executive Editor
---
First it was the 38238 zip code, now a new telephone prefix that separates UTM from your typical Martin city residents.
The telephone prefix for UT Martin has changed from 587 to 881 (UT1) effective June 26. The university's toll-free numbers, including 1-800-829-UTM1 that reaches the Office of Admissions, remain the same.
The change, financed over a 12-year period by the resale of long distance service to campus residents, opens the door for expansion. The existing switch lacked the capability for additional inward-dial numbers as the university's needs grew.
A "switch" refers to a piece of electronic equipment used to route both on and off-campus calls to their proper destination.
The 587 prefix will roll over to the new 881 prefix for about six months. After that time, the 881 prefix must be dialed to reach the Martin campus. Additional information about the change has been published online by the Office of Information Technology Services.
According to the Web site, the switch brings more than just different numbers to dial. Those wishing to dial off-campus must now press '9' instead of '5'. UTM Long Distance users will still use '2' to access their service while on campus.
One of the more notable additions is Caller ID, a service previously unavailable with the older system. However, in order to utilize the service, users must use a Caller ID-capable telephone or separate Caller ID box.
Another change is the way you login to your voice mail if calling from an off-campus telephone.
"You must now place a '1' in front of your mailbox number, as the system requires five digits," Vicki Stout of Telephone Services said. "However, this change does not effect on-campus users."
If you have an extension beginning with a "11" number, these numbers have already been changed to start with "18." This affects mostly the students in Cooper Hall and about 20 staff members.
Trying to dial a number beginning in "11" will re-route your call to the Public Safety Dispatcher.
Those having questions about the change should call The Office of Information Technology Services at (731) 881-7900 or e-mail helpdesk@utm.edu.
The Office of University Relations and ITS contributed to this report.
---
Related Link:
UTM ITC | New Telephone Changes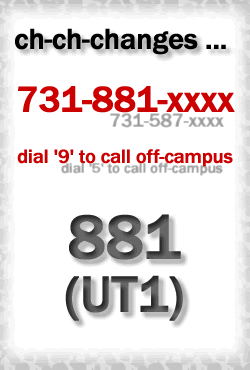 Samantha Young